Crosspost von The Nerdstream Era
I finally finished watching House of Cards, since everyone and their moms is recommending it. Here in Germany, the leader of an opposition party even went so far as to recommend the damn thing for the subject of politics in school. Being a teacher of said subject, I couldn't abstain from watching any longer, obviously. Having finished it, my thought regarding on exactly that comment can only be the question whether or not somebody shat in his brain. While House of Cards is certainly very entertaining at times and provides some very compelling topics to discuss, it possesses no educational value for politics lessons, that's for sure.
For those of you who don't know what it's about: Frank Underwood, played by a charismatic-as-usual Kevin Spacey, is the House Majority Whip of the Democratic Party, cheated of the aspired post of Secretary of State after the presidential elections he helped to win. Driven by a never-ending ambition for power and thirst for revenge, he embarks on a revenge crusade and sets his aims on an even higher price: the Vice Precidency. He is helped along by his machiavellian wife, who runs a charity, and the quid-pro-quo relationship with a young, aspiring journalist with whom he keeps a relationship. Later, he coerces a fallen Congressman into advancing his aims, too.
Including fake patriostism.
There are two stylistic unique characteristics in the series. The first one is the habit of Frank Underwood breaching the fourth wall and turning directly into the camera, explaining the audience what is going on. In the beginning, this is a wonderful refreshing instrument, used to drive the plot since it dispenses of awkward expository dialogue. It fatigues fast, however, as the writers don't use it so much to convey information as to give Spacey's character devious quotes, since his public persona doesn't allow them. While they're usually well-written, they become quickly repetitive, and the humor of his best incursions – usually when he just grimaces into the camera – gets lost in later episodes for no apparant reason.
Look at my works, ye mighty, and despair
The second is the celebration of cynicism. The show has been described as kind of an anti-West-Wing, dispensing with all idealism and ideology in favor of a main character that is utterly despicable in his actions, without any emotions, regrets or moral, as he stomps on everyone in his path. This is a very dangerous course to go for any story, since it leaves you with a main character that gives nothing to identify with unless you make some of his aims or quirks relatable. Unfortunately, this doesn't happen in Underwood's case. Instead, we're served the political juggernaut and can enjoy the guilty pleasure of seeing the evil guy suceed in the face of his usually guileless adversaries. While this works very well in the beginning, it too gets old quickly.
Like Underwood himself. Symbolism!
The main problem the show faces, though, is that it can't decide whether it wants to be a political thriller or a political drama. It tries to have it both ways, an undertaking that doesn't end well. In the beginning, the show opts for the drama angle, showing us Underwood as spurned by the administration and gaining influence by bringing down the president's darling and hijacking his agenda. The utter ruthlessnes of the move and the fact that he provokes a major fight with the Democratic powerbase, the teacher's unions, breaking their negotiation power for no other reason than personal gain, is underscored by a myriad of other persons getting under the wheels of the Frank-Tank(tm), destroyed and discarded so he can fulfill his own ambitions.
Part of it is true.
This development arrives at its peak when Underwood succesfully installs a new Secretary of State which he hopes to control and spearheads the new legislation through Congress, currying favor with the president. We also see him on his home turf in his home state, where he shamelessly panders the interestes of the local business powerhouses and instrumentalizes the help of the local church and the death of a local girl to destroy his opponent. These first four or five episodes really are very good and compelling television.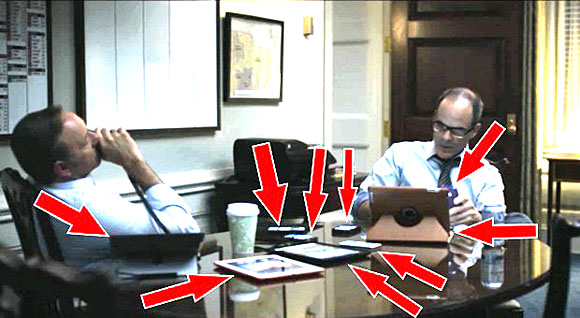 And a giant apple commerical.
They also introduce us to two minor characters that soon become important fixed stars in the pretty manageable cast of characters, Congressman Peter Russo and journalist Zoe Barns. Barns is the poster-child of web-journalism ("Print is dying!" she shouts out in the very first episode, in case anyone doesn't get the not exactly subtle subtext), fucking Underwood for insider-information, revealing the dark side of attention-centered journalism. Russo is an alcoholic, becoming susceptible to blackmail. He is forced by Underwood to betray his constituents in order for yet another short-sighted political gain in which Underwood basically shows off that he's pulling the strings.
The evil face of the internet
Russo becomes important when Underwood, for the first time seriously straining suspension of disbelief, single-handedly decides which candidate for Governor the DNC is to support (you guessed it, Russo). The following election campaign is filled with ever-growing implausabilities that stem from the pretty small cast of characters to draw from, which leads to an overload in importance for these figures, removing any realism that was conveyed earlier. Underwood seems to be singlehandedly running the United States, while his main underling starts maneuvers and intrigues that end in the totally implausible plot of Underwood destroying Russo, killing him (!), convincing the Vice President to resign and step down to fill out Russo's shoes and then get the post himself.
And to devour little children after inauguration.
In this phase of the series, the plot is narrated like a thriller and not like a drama, which leads to some serious problems. The first is the implausability of it all. The second is that thrillers more than dramas demand an engaging main character that we can root for in the created suspense, but there is none. Russo deserves what he's getting, letting down everyone repeatedly to pursue his vices. Barnes is very ego-centric and doesn't portray any moral other than her own suceess. Russo's constitutency-stand-in Capra is a cardboard character and doesn't play a big role. Underwood's underling Stamper remains likely pale. In the end, in some even more unvonvincing plot twists, Underwood becomes VP. That markes the end of season 1, and the hope that they will return to the earlier season's quality at some point.
Murder Inc.? Sounds legit.
Unfortunately, the creators also opt not to explore some of the more interesting relationships of the series, especially between Underwood and his wife, Claire. Their relationship is really interesting, wokring together, constantly refering to each other as "us" and "we" ("Did we win the vote?") and aiding each other with the powers and connections their jobs provide them. Unfortunately, the strong concentration on the lead Kevin Spacey leaves the character of Claire underdeveloped. Her own aims, motivations and goals remain largely obscure, and the rift between her and her husband comes out of the blue without a real reason (Frank just suddenly quits the status quo of a relationship that has worked for years that way, without any reason). This is unfortunate, because the quiet, understated playstyle that marks Claire is by far the most interesting thing about the series once the novelty of Spacey's Fourth-Wall-Breaches wears off. Maybe season 2 will explore this relationship more.
It could be helpful to leave Washington more often. Among the most powerful episodes are the two that play entirely in Underwood's home state of North Carolina, where we see a different persona (much more of a character than the Washington power broker). Now, I get that this comes with the territory. Underwood is a smoothtalker, friendly on the outside, noncommittal and only acting behind the scenes, which doesn't allow for much variation. But that problem is home-grown. If the creators had concentrated on the political drama aspect, they had felt the need to provide a bigger roster of characters (especially other Congressmen with their own agendas, instead everyone bowing to mighty Underwood). But the thriller elements get in the way of that and obscure the political drama. That's something that the West Wing managed way better, which always had at least three characters to draw from (Toby, Josh and Sam/Will) instead of only one, with a wider range of supporting characters and a president that didn't seem like a total toad.
Basically the whole cast
"House of Cards" is by no means a bad series. You can watch the entirety of it and be thoroughly entertained. It's however a deeply problematic one. On the one hand, there are the artistic problems, detailled above, but on the other hand we have a very strange message in it. Underwood is destroying many lives over the course of the short months the first season encompasses, but he doesn't have to face the consequences of it, and neither do we as viewers. We are told that Underwood is evil by Underwood himself, rambling his hand-fed quotes, but the real consequences of what he does don't ever play a role again. He dismantled the public school system, destroyed 12.000 or more jobs in Pennsylvania, destroyed the reputation of a Congressman and, worse, his family, destroyed the carreer of a committed expert and idealist and of another collague for personal gain, but they just disappear. Again, you could argue that this is the point, but if so, I find it very strangely executed.